The hardest steps to take are the second and third ones. In the thrill of the decision, the first step is taken. Then, reality sinks in. All you see are the challenges, road blocks, and seeming unsurmountable barriers between where you stand and where intellectually you want to be.
Inspiration. Research. Training. Action.
You are inspired to do something which leads to the first step –  research. It is easy to get caught in the research. It can go on forever. To move forward, you must act on it. Perhaps that is to enroll in some training or speaking with experts. It is easy to get stuck in this second step. To truly get the proverbial ball rolling, the third step needs to be taken. Action.
Inspiration
Step 1 – Research (no cost)
Step 2 – Training (costs $$)
Step 3 – Action (cost more money and perhaps bruised pride)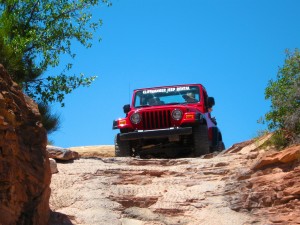 Step 1 doesn't need to cost anything. That's why it is so easy to take.  Just type an inquiry on a website, ask questions to an expert,  or visit the local library to start your research.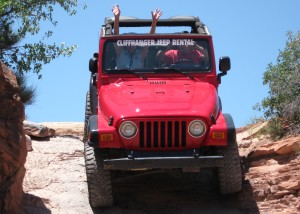 Step 2 can cost money with formal training, taking an expert out for coffee, purchase books, or attending events. It can be a small amount or a big amount of money.
The third step can also cost money but the intellectual cost can be overwhelming. Inse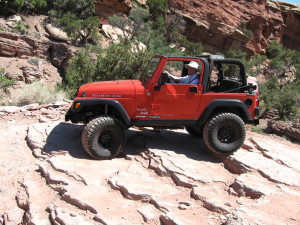 curity. Doubt. Fear of failure. Fear of being ostracized. The rewards however can be extraordinary. Happiness. Health. Financial Freedom.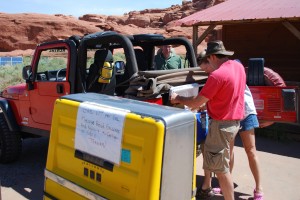 Once you've taken the third step momentum will pull you into the next few steps.
Towards success.
Hopefully.
If immediate success doesn't find you, then find your inspiration to try something different.
(These pictures are from Moab, UT. Specifically, the Elephant Hill "trail". In the picture below, this part of the trail you pass both going up the trail and going down it. I refused to allow the Jeep to be driven up the rock. It felt like I was falling out of it. But, on the way back, I didn't have any troubles riding in the back while driving down the rock. I was the only passenger who didn't chicken out.)